Ideal for overcoming all types of obstacles.
Cantilever mobile tower system standard features:

Do More With BoSS
Enables work over an obstruction when unable to support the other side of the tower.

Large Work Area
Infill decks provide uninterrupted and useable deck space for a comfortable work space.

Maximum Safety
Link brace prevents frame separation for added safety. Sturdy stabilisers with interlocking clips improves overall stability of towers.
Find the right Cantilever Tower for the job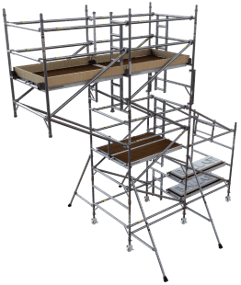 Extended End Cantilever Tower
1.45m tower width

1.8m or 2.5m platform lengths

2.2m to 6.2m platform heights

4.2m to 8.2m safe working heights

Through the Trapdoor (3T) method

Safe working load of 275kg per platform level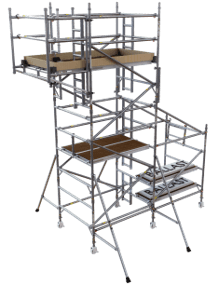 Compact End Cantilever Tower
1.45m tower width

1.8m or 2.5m platform lengths

1.2m to 6.2m platform heights

3.2m to 8.2m safe working heights

Through the Trapdoor (3T) method

Safe working load of 275kg per platform level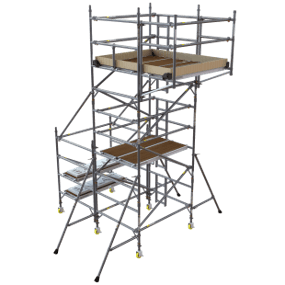 Side Cantilever Tower
1.45m tower width

1.8m or 2.5m platform lengths

1.2m to 6.2m platform heights

3.2m to 8.2m safe working heights

Through the Trapdoor (3T) method

Safe working load of 275kg per platform level
Side Cantilever step by step video
Literature
Cantilever aluminium access tower guides and manuals