WernerCo recognised with Trusted Supplier accreditation by the Hire Association Europe (HAE)
Jul 22, 2020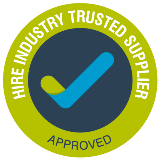 WernerCo, the global leader in ladders and access equipment, is pleased to announce it has been awarded the prestigious Hire Industry Trusted Supplier (HITS) status by the Hire Association Europe (HAE).
Since its introduction by the HAE in 2018, the HITS accreditation scheme has become synonymous in the hire industry as a mark of excellence for promoting the highest levels of quality, competence and safety in the sector's supply chain.
WernerCo, which has been supplying its BoSS® and Youngman range of access solutions to the hire sector for many decades, was successfully awarded 'Trusted Supplier' status for 2020/2021 following the HAE's extensive HITS assessment. This looks at a number of business critical factors like a manufacturer's commitment to quality standards, safety, training, environmental procedures, R&D, production processes and data security, amongst others.
Stephanie Bradley, BoSS Product Manager at WernerCo, said: "The HITS scheme is specifically designed to raise the bar in the hire sector, ensuring the highest standards are met. Ultimately, it's about giving businesses that are purchasing products or services complete peace of mind and reassurance that their supply chain partners can be trusted.
"At WernerCo, we are dedicated to ensuring we maintain the very best practices across our business, from the manufacturer and delivery of our market leading and innovative range of solutions, right through to our commitment to provide a first class service offering. We are therefore absolutely delighted to have been recognised with this prestigious accreditation for our product range for the hire sector."
BoSS offers one of the widest ranges of high quality access towers available anywhere in the world and arguably the no.1 range of tower available today, allowing tradesmen to work to a multitude of heights, across both aluminium and fiberglass access solutions.
Carl Bartlett, Director Certification Services at the HAE, commented: "We are pleased to be able to award WernerCo with approved supplier status as part of our HITS scheme after the company met our assessment criteria.
"The goal of the scheme is all about recognising excellence and continually raising standards, setting a benchmark for the hire sector that helps hire and rental organisations have access to the most reliable and trusted suppliers on the market."
Media Contacts:
Madeleine Read
E: [email protected]
T: 0121 454 9707
Katy Peacock
E: [email protected]
T: 0121 454 9707