FIND OUT HOW YOU CAN DO MORE WITH BOSS®
BoSS is the UK's No.1 mobile access tower system.
We make towers that are easy to use and quick to adapt, so you spend less time building them and more time using them - which is why you can always Do More With BoSS.
BoSS offers a range of working solutions to covers all your 'work at height' needs.
---
Cantilever and Linked
Standard Features
New Step-Through Ladder Frame Innovation to create multi-level walk through structures
Lightweight design for easier handling
BoSS claws colour coded to ensure braces are easily identifiable
Sturdy stabiliser with interlocking clips made from high grade aluminium to improve overall stability of towers
Integrated ladder with anti-slip rungs
Safe Working Load (SWL) Load classes 1- 3
Constructed using market leading BoSS tower components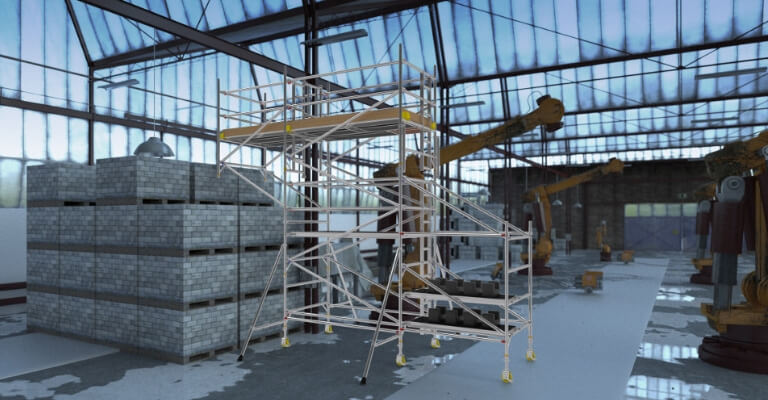 Cantilever: Overcome All Manner of Obstacles
New Link Brace prevents frame separation

Enables the user to work over an obstruction when unable to support the other side of the tower. Platform height from 2.2m to 6.2m with 1.8m platform length.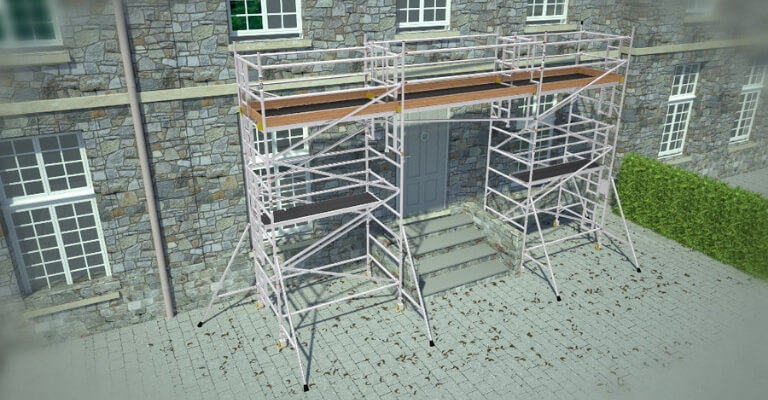 Linked: Work Across Obstacles
New BoSS Plan Brace Rigid structure for improved product performance
Heavy duty - Manufactured from a high grade construction specification aluminium 3.2m
Fixed Deck provides a bigger working platform area with minimum components
BS1139-6 future proof design enables building of end linked towers
Guardrail for Step Through Multi Purpose Ladder

Provides a continuous large working area. Platform height from 2.2m to 6.2m with a link bridge of 3.2m.
---
Ladderspan and Clima
Standard Features
Frame widths of 850mm and 1450mm
3T or AGR Build methods
Ribbed rung tubing for increased grip
BoSS Camlock AGR - an alternative build method with fewer components for a quick and simple build method on Clima and Ladderspan towers.
Learn more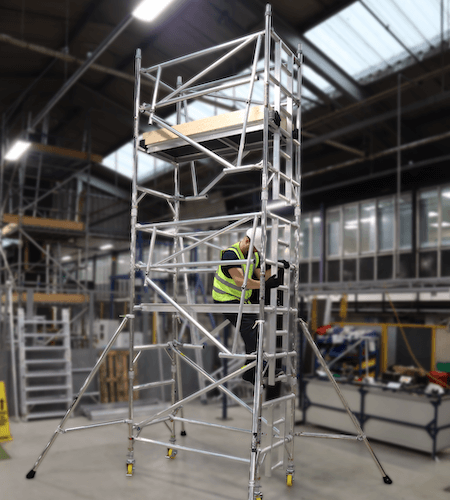 Ladderspan: Integral Ladders for Safe Access
Rigid and robust construction
Integral ladders for safe access
Ribbed rung tubing for increased grip
Clima: Ultimate Versatile Climbing System
Floating frame spigots for easy assembly
Deck board edge protection for maximum security
0.25m frame rung spacing for easy climbing
---
700 Series
Standard Features
Engineered for challenging jobsites
BoSS 700 series for guaranteed interchangeability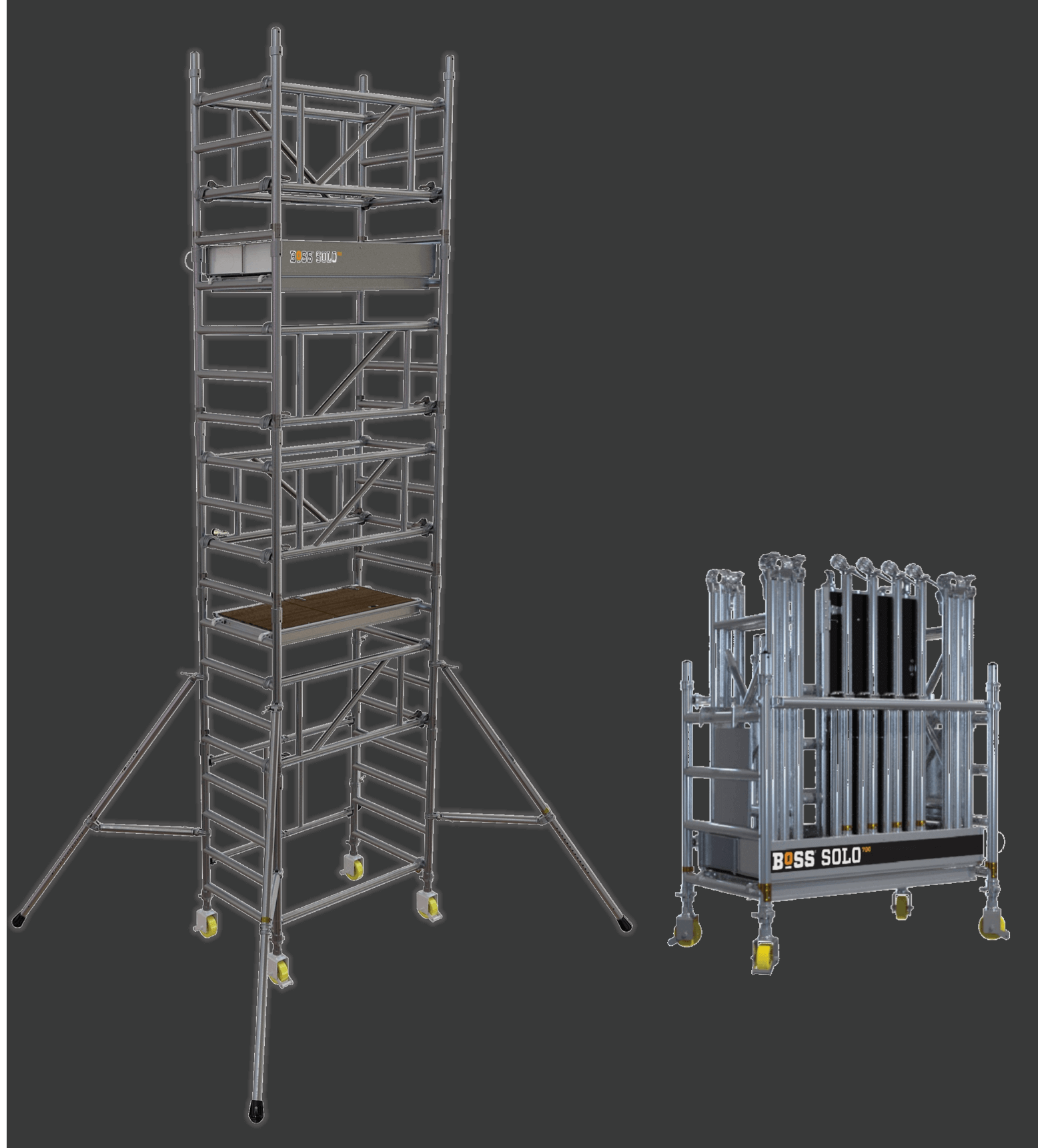 SOLO700 - One Person Operation
The rapid build single person tower.
Designed to be quick and safe to assemble by one person
Base unit forms trolley for convenient storage and transportation
Compact base size fits through standard doorways
Variable working heights up to 6.2m
0.25m rung pitch for versatile working height positions
One piece aluminium folding toe board set
Ideal for use in public buildings and retail locations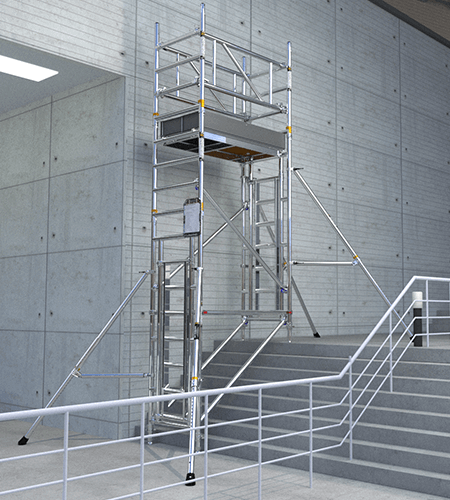 StairMax700 - Safe, Portable Access
The professional choice for working on stairs.
Safe working platform designed for confined spaces and stairwells
Convenient - use internally or externally
Compact base size fits through standard doorways and stairwells
Choice of 3 frame heights for build flexibility
Unique confined space stabilisers for stability
Variable working heights up to 13m (internally) or 7m (externally)
Available with Camlock frames and braces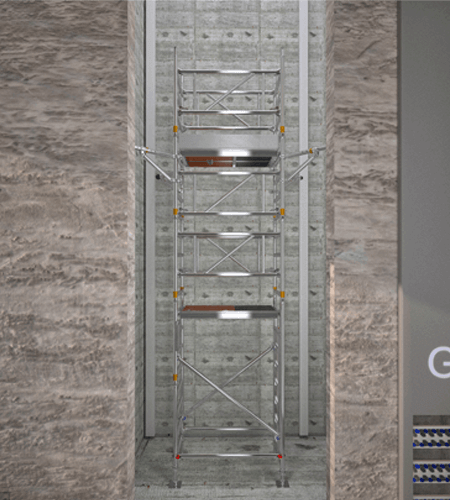 Liftshaft700 - Confined Space System
Designed for use in confined spaces, the lightweight industrial modular access tower system has a compact base.
Professional choice for use in confined spaces
Primed brace claw mechanism and floating frame spigots for ease of assembly
Aluminium deckprofile for deck board edge protection
Liftshaft / confined space stabiliser for maximum stability (available for platform heights from 4m to 20m)
---
Staircase
Frequent Climbing and Descending
The lightweight industrial modular access tower system with minimal additional components.
Ideal for use where there is a need to frequently climb and descend
0.5m frame rung spacing for safe and comfortable access
Self-closing fully hinged trapdoor for safety whilst ascending and descending to the working area
---
ZONE:1 Fibreglass
The fibreglass industrial tower system is perfect for working at height in special applications including challenging jobsites, rail maintenance, aviation industry and oil refineries, and for use around electrical installation.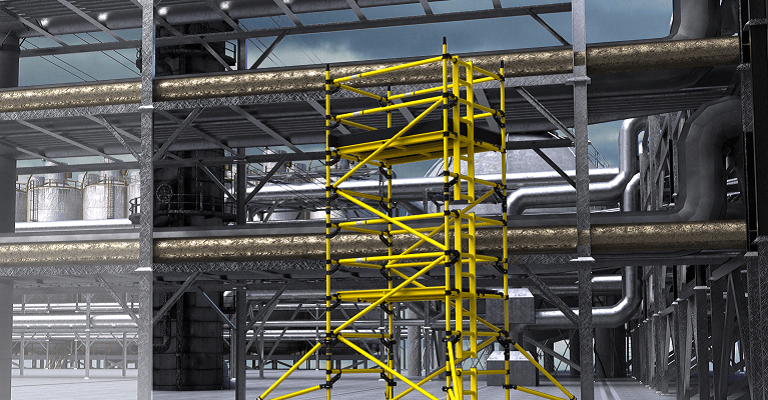 FLEXIBILITY + SAFETY = ZONE:1
Made from strong and durable fibreglass that is non-conductive, non-sparking, non-corrosive and non-oxidising
Frame collar encapsulates the GRP tube to eliminate accidental damage during assembly and transportation
Frame interlocking clip is retained in the collar reduces wear and tear 30kg side loading as required by EN1004
Colour coded hook ensures the braces are easy to identify Improved frame design enables quick assembly
Safe working load of 220kg per platform level
Why BoSS®?
From low-level work platforms to a full range of mobile access towers, BoSS® is the UK's leading mobile tower system.
PASMA Training
As a PASMA approved training centre, we offer the industry standard training programme on the safe use of mobile access towers and low level access equipment.
Call On Our Expertise
If you have any questions about the tower or configuration you need, our dedicated customer service team will be glad to assist you.