EN 1004
standard
is changing
MOBILE ACCESS AND WORKING TOWERS
Increased safety and stability at low level heights
New and safer distance distance requirements between platform levels
Latest EN 1004 Standard
Find out about the latest changes to the new EN 1004 standard for Mobile Access and Working Towers.
Why do we certify our towers to EN 1004?
It demonstrates our commitment to ensuring BoSS towers have gone through rigorous testing to provide maximum safety for the end user
It ensures that materials, dimensions, design loads, safety and performance requirements conform to safety standards
What's happening?
A new version of EN 1004 was released in 2020
There's a transition period of 12 months from the date the new Standard requirements are released. During this time, product modifications are made and tests are undertaken to ensure all products that fall into the scope of the EN 1004 Standard conform and are certified.
All BoSS products will be put through 3rd party testing to provide additional levels of assurance through official certification.
EN 1004:2004 will be withdrawn in November 2021.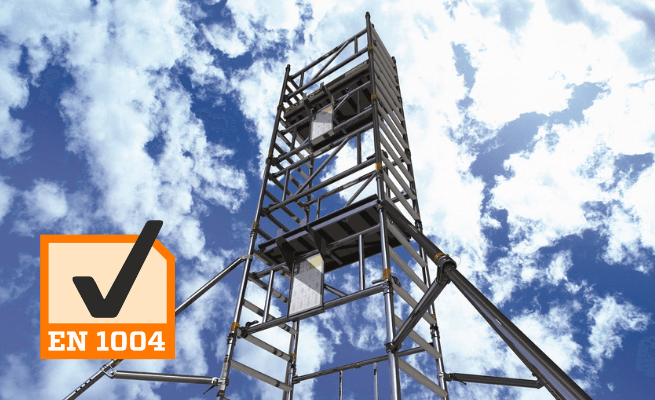 ---
What is changing in EN1004?
All towers below 2.5m are now included in the scope of EN 1004
This includes all towers from the ground up which has implications for the build method and quantity schedules of our low level towers
Maximum heights remain at 8m externally and 12m internally
Any size tower
Making Mobile Towers even safer
Shorter distances between platform levels: From 4.2m to maximum 2.25m
Shorter distances from the ground to the first platform: From 4.6m to maximum 3.4m
Measures to prevent castors falling out
Wind locks on both ends of the platform
New guidance on wind and gust loads
Updated guidance on materials
Reduce distance of possible fall
More safeguards
DID YOU KNOW?
BoSS access towers have always had a distance of 2m between platforms to provide maximum user safety when working at height.
---
How do I tell if a product complies to the new standard?
Look on the product – the label should state the standard
Check the User Instructions
---
Can I mix and match components?
No.
When you combine components from different manufacturers, a new structure has been created that has not been tested to the safety standard and therefore does not comply. Although it may appear that all access towers look the same and components may be similar to each other, the actual characteristics and performance of the components can be very different. It's important to remember that in EN1004:2020 it is not the components that are approved it is the overall tower structure.
---
Can I use towers that do not comply to the new standard?
From November 2021, any new towers purchased should comply to the new standard.
However, you may continue to use any existing tower products that comply to EN 1004:2004 as long as they are in suitable condition. You should always refer back to the user manual supplied to check your product requirements are up to date.
EN 1004-1:2020 Guide
Download our detailed guide highlighting all the key changes in the new Standard.
PASMA Training
As a PASMA approved training centre, we offer the industry standard training programme.
Ask the Experts
If you have any questions, our dedicated customer service team will be glad to assist you.